Information updated as of 10/2017
PHARMACISTS ASSISTING PHARMACISTS IN ARIZONA (PAPA)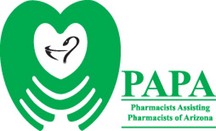 Model: Board of Pharmacy -> Committee State Pharmacy Association,Foundation 
Eligible for Pharmacists, Student Pharmacists and Technicians
PAPA website: www.azpharmacy.org/PAPA
PAPA Administrative Director: Deborah Marcum
1845 E Southern Ave, Tempe, Arizona 85282
Direct Line- 480-207-7869 Email:  papa@azpharmacy.org  
(p)480-838-3385, (f)480-838-3557      
*************************************************************************************************************************************** 
This tax-exempt organization has a 7 member (non-paid) board of directors.  It is free standing/separate from the Pharmacy State Board. It is "under the umbrella" of the State Pharmacy Association Foundation, and therefore is covered under their general liability insurance. It utilizes substance abuse professionals with credentials. The clients have to attend weekly peer group counseling sessions with trained Licensed Counselors and PhD.'s that have substance abuse credentials. his organization has a written agreement with the Board of Pharmacy. It has enabling legislation that states that the Board of Pharmacy "may allocate an amount not to exceed twenty dollars from each fee it collects from biennial renewal licenses".
What about funding? The organization charges client fees. Each participant pays for their urine screens and a monthly counseling fee. It also receives funding through license renewal fees.
Active clients include: Pharmacists, Pharmacy Students, and Pharmacy Technicians.