Information updated as of 10/2017
HPSP Model: Health Care Organization (government entity)
HPSP Eligible for All Health Care Professionals
PRN Eligible for Pharmacists and Student Pharmacists
For Treatment: Minnesota HPSP Contact Information

1380 Energy Lane, Ste 202 
Saint Paul, MN 55108 
Phone: (651) 642-0487 
Fax: (651) 643-2163
Minnesota's Health Professionals Services Program protects the public by providing monitoring services to regulated health care professionals whose illnesses may impact their ability to practice safely.
The goals of HPSP are to promote early intervention, diagnosis and treatment for health professionals with illnesses, and to provide monitoring services as an alternative to Board discipline.
For Support: Minnesota Pharmacists Recovery Network Contact Information 
Pharmacist Recovery Network/Minnesota
 
5100 Emerson Ave. So., Minneapolis, Minnesota   55419-1156 

Phone #:  (612) 825-5533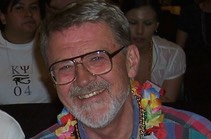 E-mail address: jima90mn@gmail.com
PRN Support Group meeting is on every Wednesday evening @ 7:30.
   The address is 4557 Colfax Ave S., Minneapolis, MN 55409 
   All pharmacists and student pharmacists in recovery are welcome 
PRN/Minnesota contact Jim A. -Picture from University of Utah - 2005
***************************************************************************************************************************************

Started in 1982 as Pharmacists Aiding Pharmacists (PAP) and became PRN/Minnesota in 1995, this organization 
has no Board of Directors. It is freestanding and separate from all Minnesota State pharmacy professional 
organizations. It uses substance misuse professionals who are credentialed to supply specific services. 
This organization became an advocate, resource, and support group program in July 1995. In 1995 a 
monitoring program (HPSP) for all health professions licensing boards came into existence through enabling 
legislation. The official monitoring of self-referred pharmacists and Board referred pharmacists paid by the 
Boards made our monitoring redundant. PRN/Minnesota supplies weekly (Wednesday) mutual support meetings
and advocacy services by a contract relationship with each pharmacist.

What about funding? The organization charges client fees: $10/month It does not receive funding through license 
renewal fees.

Active clients include: Pharmacists & Student Pharmacist