Information Updated as of 10/2017:

Editor's Note: At this time I do not have any Pharmacists as possible contacts for Pharmacists seeking
                       recovery to network with. If you would be interest, let me know. Thanks, Charlie Broussard

Model: Physicians Health Program
Eligible for All Health Care Professionals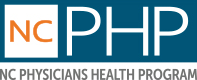 For Pharmacists and Pharmacy Personnel: https://ncphp.org/pharmacists-and-pharmacy-personnel/
The Board of Pharmacy terminated the contract with NCPRN effective February 16, 2016.  All clients will now be served under the NC Physician's Health Program (NCPHP).